There are a lot of people that are trying to find out how to clean dog pee from a couch and the reason could be anything.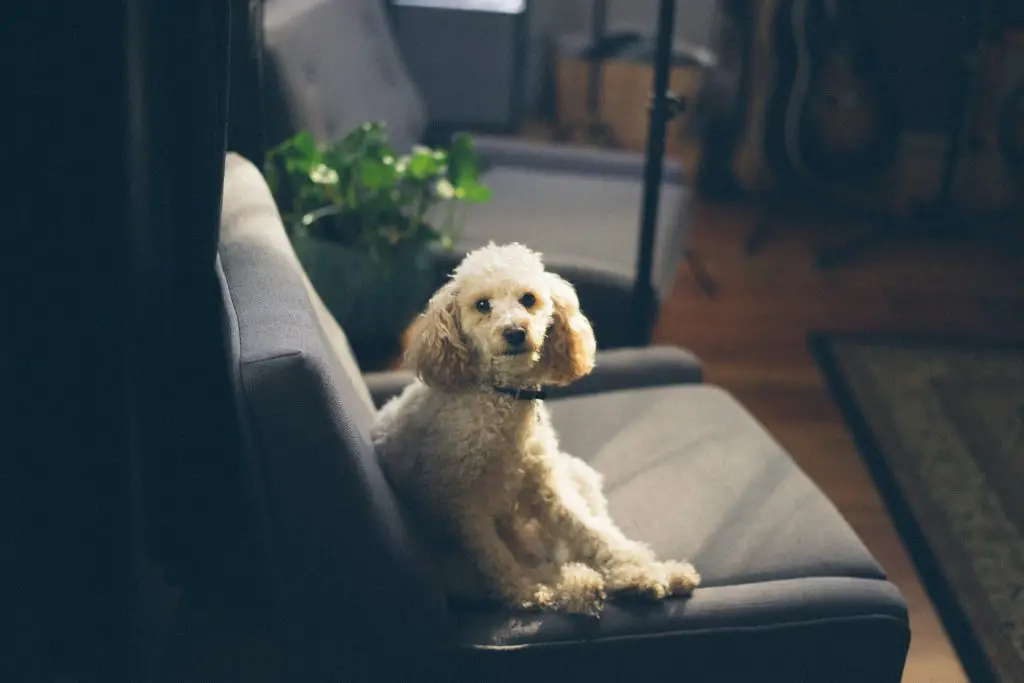 For some, it is because their dogs are yet to be potty trained while some others have a dog who is incontinent.
Whatever the case, though, it is important to get to the stain as quickly as possible which could be immediately it happens or immediately you notice it.
If you get to it quickly enough, you'll be able to get out the stain and the smell all by yourself and using stuff you already have in your home.
However, if you leave the pee in the couch for days, you might have to enlist some professional help to get out the stain and/or smell. Now, let's get to it.
Wash The Stain Out
To wash out the stain, you'll need a bowl of water with about a tablespoon of dishwashing liquid or laundry soap. 
Now, you could either decide to use a soft bristled brush or a clean piece of rag.
Your instrument of choice should be dependent on the material your couch is made of. And you might have to check with the manufacturers for washing instructions.
Now, it is time to tackle the stain. You want to scrub gently but firmly. Gently without pressing in so that you do not push the pee even further into the couch. 
On the other hand, it has to be firm so that you actually get the pee out. Finally, as you scrub, try to contain the stain within the spot it already occupies.
Get The Smell Out
If you are checking this out, you've probably already had your couch peed on so you probably understand us when we say that urine stinks, a lot. And well, we can't expect less from ammonia.
Now that we are on the topic of ammonia, it is important that you do not use an ammonium-based cleaner to remove pee from your couch. And this is obviously because you would just be compounding the smell problem.
On the other hand, bleach could bleach out your carpet. So, vinegar it is; mixed with water of course. 
However, even if you'll be using vinegar, it is still important to test out a part of your couch that isn't really visible to the general public just to be sure that it doesn't mess things up.
Once you have ascertained that the mixture will not destroy your carpet, get along with dabbing the spot. This should both take care of the smell and disinfect the spot.
Rinse Out
Now, when we mention 'rinse', we do not mean that you should pour a bucket of water on your couch. You'll need a clean rag and a bucket of just water for the rinse out.
So, get the rag damp and then get to dabbing as you've been doing. Do this till you are sure you have gotten all the cleaning products out of your couch.
Allow To Dry
This is actually a really important step. If you are not looking to having a smelly couch or breeding mold, it is important that you allow your couch dry out completely.
If you can achieve it, move the couch to a position where it can get some sun (if the fabric allows for that, that is) or just take it outside. If not, you could just position a fan in such a way that it can blow dry the couch.
Now, some people might decide to cover that spot so that their kids and pets cannot get to it.
However, while it is important to keep everybody away from that spot until it is dry, covering it might not be ideal. This is because covering the spot prevents it from getting the sun or air it needs to dry quickly.
Nonetheless, if you are covering the spot with a material that is breathable and can soak up moisture, that could actually work. You'd still have to allow the spot air dry or sun dry, through.
Meltblown Nonwoven Cloth Filter Fabric Non-Woven Material Set for Breathing Protection Filtering Layer Application Activated Carbon Filter (10M)
Fine Craft: The diameter of melt-blown fiber can reach 1 ~ 2 microns, which belongs to ultra-fine non-woven fiber.

Practical in Use: The cloth features the weight of 25g(about), which will meet your needs.

Wide Application: The filter fabric meltblown cloth is universal , thus making the filtering efficiency greater than 95%.

Premium Material: The fabric meltblown cloth features a new generation of environmentally friendly materials, which is breathable, flexible, lightweight, non-burning, easy to decompose, non-toxic, non-irritating, recyclable, etc.
Prices pulled from the Amazon Product Advertising API on:
Product prices and availability are accurate as of the date/time indicated and are subject to change. Any price and availability information displayed on [relevant Amazon Site(s), as applicable] at the time of purchase will apply to the purchase of this product.