When you buy a Dyson vacuum, you might not know how to use the docking station properly. Well, don't worry because here we will help you with any problem you might have with the docking station . . .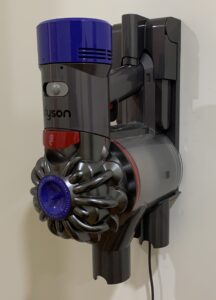 How To Install Dyson Vacuum Docking Station
Here's how to install the docking station of your Dyson vacuum . . .
Step 1. Read the instructions before you begin.
Step 2. Keep the following components at hand while you work: the charger, front casing, back plate, tape measure, screws and wall plugs.
Step 3. Drill two holes with the height recommended in the manual.
Step 4. Secure the backplate to the wall using the correct screws.
Step 5. Position the jack plug on the front casing.
Step 6. Ensure that the charger cable is neatly secured behind the front casing.
Step 7. Push the jack cover down to hold the jack plug in place.
Step 8. Attach the front casing to the backplate.
Step 9. Plug the charger into your power outlet.
Step 10. Keep the vacuum attachments at the bottom of the docking station.
Step 11. Hang the vacuum cleaner, then finally let it charge.